Hi there, this is just a little information about me.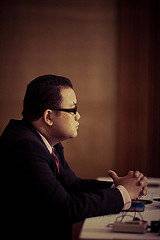 I'm Normandani Setyawan. I think it would be helpful to provide some information about me to omit the possibility of you wondering who this guy really is. If you want your free ebook, just scroll down to the bottom of the page. You'll find it there.
But if you are a bit curious of who I am, I just wrote a little information about myself.
So, let's start.
So, who is Norman? I am a guy living in Jakarta, Indonesia who likes Jazz music, among other genres of who music. Among other activities to enjoy music I prefer to sing. I have to tell you that I am not a Jazz expert. Just a guy learns to appreciate Jazz. I started to like jazz since I was in high school. And I only have several musical education when I took lessons from Yamaha guitar school, back when I was in Junior high school. And to tell you the truth, "Pop" was the first genre which is easy for me to grasp, and then "Rock" came along followed by other beautiful genres. But along the way, I found out about Jazz and it really has that 'something' which is influential to other genres that I have enjoyed before.
A little bit more about me. Having the experience in choir (back in elementary until high school), accapella (in college days), bands (in high school, college and now), music lessons, I think I have a slight knowledge of music. At least the way I see it. But since the internet world came, for me especially in early 2000, the world is just opening up knowledge and information. That's how I encountered jazz more profoundly.
A person who has the contribution to introduced Jazz to me was my sister Dina. She always has that sense of music which at sometimes amazes me but on the other hand I just could not grasp. But thanks to her I build my interest to Jazz. Right now she is concentrating on her scrap-booking. You have got to see her works. And she is into photography as well. Cool stuff, I might say.
Another person who introduced me to a further world of Jazz was Mas Memed. If I remember well, he was a program manager in one of Indonesia's private television station (RCTI). The two albums which he lets me hear were Rippington's "Black Diamond" and one of Acoustic Alchemy album. ( I forgot what Acoustic Alchemy album I was listening to, but it was just great.) And that one Indonesian jazz group that I listen to was Simak Dialog (Riza Arshad and Tohpati was founder of the band)
Having many friends, both professional musicians and those who play or at least enjoy music helps me a lot to learn more about my hobby. Having the opportunity to share experiences and what I know is a privilege for me. I am hoping to learn from all of you to get the best out of Jazz.
I would like to tell you a bit about how I started out this site.
In 2009, I was very keen on looking up information about how to set up business through the internet. And from a website I found about a link providing information of how to start out a proper internet business. After a proper information at hand, and sorting out the real valuable tips I started this site of mine since May 2011. Not only knowing the skin of the deal, but rather, the step by step of how to make it possible. I think, most of you who are new to internet marketing or not quite successful just yet will be open to suggestion or free information to guide you along the way until all debts are paid, until all expenses are covered and until your time and dime are really yours to spend.
For this purpose, I think it is good to share with you a master course ebook of internet marketing. Klick here to get the free ebook. Hopefully this will provide the information you need to move forward and be succesful.
Well that's what I can share with you for now. I hope you enjoy the site.