Who is the Song Project?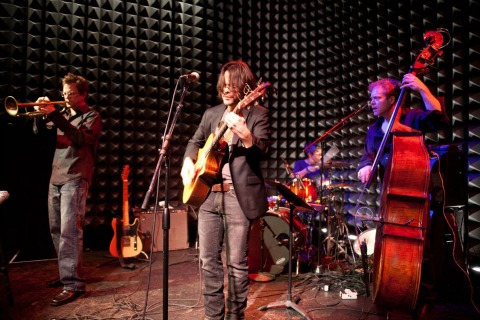 ---
Allow me to introduce this one Jazz Band,The Song Project ("TSP"). A group of men who takes their creativity into another level. A bridge is a solid but boring construction which serves as a tool to connect people from two seperate land. In a sense The Song Project performs this role to bridge Jazz music to those who are from the other genres of music. As a band they have their influence from various musicians. Not necessarily from jazz. Rock, Alternative, Pop and many more are intertwined into a voice which is uniquely idenitify the band.
So, allow me to share a little bit about the band. The following information is the official description of who The Song Project really is. So sit tight and enjoy.
Website:
Please find the detailed information about this band in The Song Project's website


Quotes:
"Straddles the worlds of ECM-ish impressionism and straight-ahead blowing." - Cadence
"Rapp is quickly developing a reputation as a superb interpreter and great stylist, willing to tackle the history of this music with his eyes on the past and his mind on the present and future of this music." - AllAboutJazz.com
"Bronston growls and moans like a male Lucinda Williams." - Performing Songwriter
"More than anyone else among today's trumpeters, Rapp is breaking down the age old paradigms as to how the trumpet ought to be played in a jazz environment" - JazzPolice.com
---